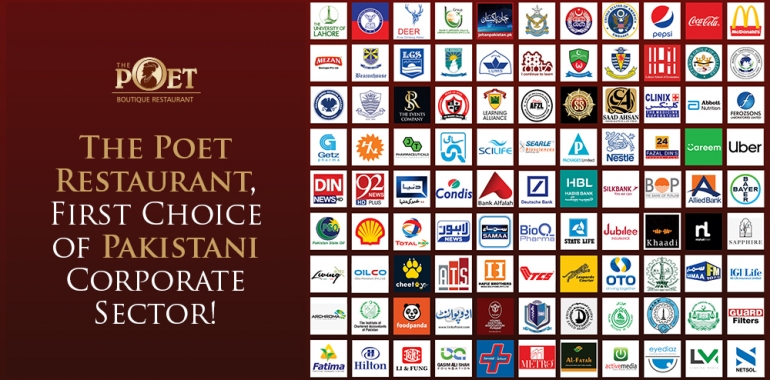 The Poet Restaurant, First Choice of Pakistani Corporate Sector!
We're overwhelmed by the support and appreciation that we get from the corporate sector of Pakistan. The love, support, and wishes are what keeps us busy at improving our food quality, ambiance and various other factors that make us your primary choice for dining out. We, at The Poet Restaurant, strive to offer supreme food quality and an amazing experience that you'll never forget for years to come. From travel to manufacturing and medicine to the media industry, we have prided ourselves with numerous corporate clients that have chosen The Poet as they dine out a spot in Lahore. And we promise to deliver up to their expectations with everything best whenever they return to their favorite spot i.e. The Poet Restaurant – one of the top restaurants in Lahore.
Offering an exquisite evening to our corporate guests, The Poet welcomes them with a Mughlai themed restaurant that is specifically started to revive the royal charm of Mughals. From interiors to music selection and serving style, everything has been designed with the sole objective in mind – to make the dining out experience memorable and refreshing. We're happy that our corporate clients have appreciated our efforts with multiple visits and such positive reviews that further motivate us to improvise even more.
We care about our corporate clients as much as they love eating at The Poet – one of the top restaurants in Lahore. And therefore, it is our primary focus that they find The Poet a place to relax, refresh and rejuvenation upon arranging the annual get-togethers for their staff members. The Poet decorates their experiences with delicious Mughlai cuisine, classical music and a serene environment that is vital to relax when you dine out. And not just that, we offer our corporate clients various seating plans to further customize their official trip to The Poet according to the situation.
Call us today on 0304 1112221 to reserve your table or discuss the plans in detail for your next corporate trip to The Poet Restaurant.