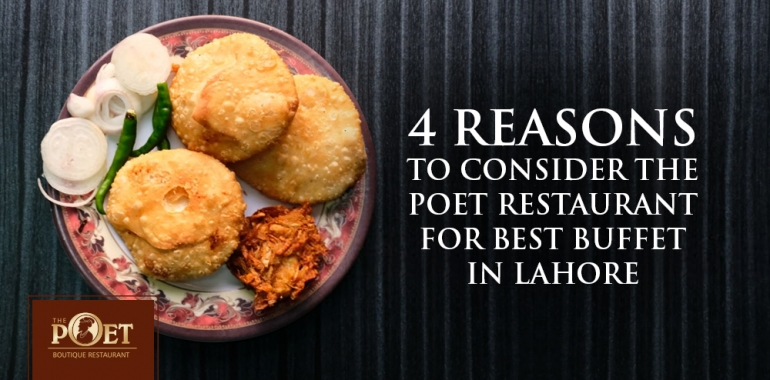 4 REASONS TO CONSIDER THE POET RESTAURANT FOR BEST BUFFET IN LAHORE
Our city – Lahore – has seen many eras of emperors and each era left behind something to add to our heritage. Whether you're visiting Lahore from another city or planning a day out with your family or friends, food can't be missed from your to-do list. The question is not what you eat, the question is where to eat to experience the true heritage and culture of Lahore? When you set out to find the Best Buffet in Lahore, we welcome you with a smile and our menu. Let's discuss what features can you expect while eating at The Poet Restaurant.
TRY DIFFERENT SALADS
While you wait for your delicious order to be served, salads are your best friends to treat your hunger. We, at The Poet Restaurant, offer a wide range of salads to try and wait without feeling hungry until our chefs serve you. We allow you to design your salad as you want and select from our salad menu to relish your pastime until the main course is served. Select from Fresh Salad, Kachumber Salad, Khatta Meethta Chicken Salad or try Chef Special Salad. Plus, you can make adjustments in your order if you're on medication while trying our salads. Come, give our salads a try if you're looking for the best buffet in Lahore.
ENJOY CALMING AMBIENCE
We understand your preference when you're specifically looking for the best buffet in Lahore and therefore our management takes your feedback seriously. Along with adding more traditional dishes in our menu, we impress our guests with ideal ambiance. A calming ambiance is important for crafting a remarkable dining experience and that's what we offer when you visit The Poet Restaurant. We achieve this objective by including pleasantness, a small amount of traditional music in the background, and a strategic sitting plan so you can enjoy every moment spent with your family or friends.
ORDER TRADITIONAL CUISINE
From Mughlai styled kebabs to our signature curry, we offer a wide range of traditional foods to meet your expectations when you're searching for the best buffet in Lahore. The Poet Restaurant employs one of the best chefs in town that have mastered the art of cooking delicious and finger-licking traditional food. Not just that, we even create a nostalgic experience by serving in a purely traditional way so you can feel a royal touch in the dine-in experience.
TAKE MEMORABLE MOMENTS BACK
The Mughlai theme is an integral part of our ambiance that every visitor enjoys while eating at The Poet Restaurant. While you select us in your quest to find the best buffet in Lahore, we remain ready to make your visit memorable. With our staff photographer at your disposal, you can have a hi-res picture while enjoying the royal-like experience at the table. Plus, you're welcome to take a selfie at the roof, in the hall or with your favorite dish.
Visit THE POET RESTAURANT today if you're looking for the best buffet in Lahore and reserve your table on 0304 1112221, now!