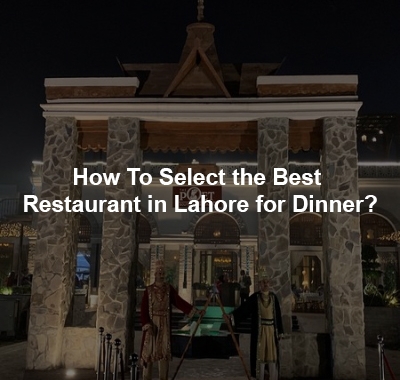 How To Select the Best Restaurant in Lahore for Dinner?
It is true that food is the basic necessity of life besides water and air. But no one can deny the fact that enjoying the food at the right place will help everyone make their moments remarkable. Not only this but it will also turn your bad day into a quite good one. The reason is that the best restaurant will bring a huge smile to your face with the help of its delicious food. Read this article presented by the top restaurant in Lahore, Poet Boutique Restaurant so that you can have a better experience with your beloved ones and enjoy the best cuisine ever in your whole life.
Why Restaurants Are Important for Everyone?
The importance of restaurants in our daily lives is essential. The restaurant holds a special place in the heart of people, especially Pakistanis. It's a great place to meet new people, relax and eat delicious food with the ones you care about. They also have the potential to be an excellent nutritional source with many different healthy options.
Millions of people around the world have found stable employment in the restaurant industry. They give people the opportunity to get an education, find a job, and earn a living. In addition, by providing goods and services to customers, restaurants boost economic activity.
All in all, we value restaurants as meeting places where we can relax with friends and family over excellent cuisine and pleasant conversation. Food and job opportunities can also be obtained through them.
Ways To Select the Right Restaurant for Your Dinner
Following are the best ways through which you can choose the right restaurant for dinner:
Make Sure That the Location Is Best Accessible
Location is one of the most important factors that can help you decide if the chosen restaurant will be the best fit for a perfect evening or not. No matter what the niche is, location has always served as a building block for developing worth and reputation whether it is a food spot or any other.
The location of a restaurant matters a lot. If the location of a restaurant is strategic as well as unique, then a restaurant will be more likely to be approached by its target audience or customers.
If you are looking for the right place to enjoy the best food in Lahore, you can also consider if the restaurant is nearby you or not but that's not necessary for a typical food lover. The location should be at the best place and must be easily accessible for the people, no matter in which area it is situated.
Poet Boutique Restaurant is one of the few restaurants that have a strategic location in one of the famous areas (i.e., Greater Iqbal Park, and Lake City Mall). The restaurant has been serving its customers delicious Mughlai, desi, and other cuisines for years.
The Poet Restaurant has also become well-known among notable Pakistani Celebrities and they have recommended us as one of the best Mughlai food places in Lahore. Therefore, you should also visit the restaurant and enjoy the best taste that will end up licking your fingers.
Don't Ignore the Ambiance of a Restaurant
Whether you are aware or not but ambiance matters a lot. The surrounding environment can affect us a lot. A good environment can lighten up your mood and make you feel more comfortable within yourself and with others. In workplaces, the environment highly impacts your productivity in work as well as performance.
The same thing goes for restaurants as well. Just imagine that you are eating your food but in a quite dull, bad, and undesirable surrounding environment. A bad ambiance will ruin up your day and spill water upon your plans. It will make you feel like you are spending your time in an ugly prison. Sounds bad, doesn't it?
However, Poet Restaurant is quite different when it comes to the ambiance of a food place. This restaurant is well aware of the fact that the best quality food is not enough, the surroundings matter a lot and must be in accordance with the cuisines themselves.
Since Poet Boutique Restaurant is the Mughlai and Desi cuisine. Therefore, its architecture is also inspired by the historical Mughal era. Therefore, whenever you will visit the restaurant either for lunch or dinner, you may feel like you have returned to the older times when the Mughal rule was at its peak.
In short, the ambiance matters a lot. Poet Restaurant is one of the few but the best ambiance restaurants in Lahore that believes in providing customers with a good environment besides delicious meals.
What Sort of Cuisines Does the Restaurant Offer?
The cuisines offered by the restaurant also matter a lot. It is important to know that not everyone will prefer to eat the same thing over and over. It is in the nature of human beings to be curious and explore different things in their life whether it is nature, food, or any other thing.
Let's suppose that you and your friend are quite hungry and desperately looking for the best place to dine in. Both of you have just found a certain restaurant but it only offers one kind of food every time. Eating the same but delicious cuisine over and over is okay for you. But your friend hates such food places where there is no variety.
What does that mean? Obviously, the food place you have chosen may be satisfactory for you. But for your friend, it is definitely not a good pick. So, ultimately, the food spot you have chosen is not the best one for both your and your friend's needs.
So what should you do in this situation? Well, how about giving a try to the Poet Boutique Restaurant by booking a reservation?
Poet Boutique Restaurant, being the best desi food place in Pakistan, is a place where you will find unique kinds of different dishes from the Sikandari Diya Kabab to Mutton Rogan Josh, and Dumpukht Pulao to Fried Malai Chicken. Besides this, you can enjoy the best buffet as well as candle light dinner with your beloved one.
How Good Is the Quality of Food?
Quality is the most important thing which food lovers crave every single moment. No matter what sort of dish you are about to eat, it will be a bad investment and hurt you a lot if the food is affordable but not good enough to satisfy your hunger needs.
Unfortunately, the majority of food spots are out there that focus more on the quantity rather than the quality of the food and then ultimately end up receiving less satisfactory remarks from their customers.
As compared to others, Poet Boutique Restaurant not only focuses on providing the most delicious food but also makes sure not to compromise on its quality. This is the reason Poet Restaurant has been the number of choice for many people, especially the Lahoris. Why? because we always provide our customers with exactly what they expect from us. This is the reason why we experience countless returns from our customers eventually.
No matter what you eat from our restaurant, it will be healthy without any sort of side effects on your health. We always make sure to take good care of our customers as a trusted restaurant in Lahore, Pakistan.
How Affordable is the Restaurant?
This is another major factor that will help you decide if the restaurant you have chosen is best enough to cater to your needs or not. Usually, it is important to consider how much money you have in your pockets. But every time with the cheapest option is not necessarily a good decision unless you are a single individual dining in a particular restaurant.
Still, everyone has different levels of affordability for eating meals and you may have your own preferences. However, if you are the kind of person who wants to enjoy high-quality food with your friends or family. Then paying a fair price won't be a big deal for you. But it would be a lot better than dining in at a less price and still not getting much good meal for yourself.
In short, opting for a restaurant offering exceptional deals against the money will be able to secure immense votes of confidence. Why? Because people will at least not worry about getting their investment wasted and will obtain a great return without any sort of regret.
Poet Boutique Restaurant, a top restaurant in Lahore, is a perfect example of a good investment in the best quality food. You can dine in with your friends or family members multiple times and we will make sure to provide you with the best value.
Read Reviews and Ratings for Different Restaurants
The Internet is the best source of finding information and getting answers to your questions. Since we are living in a digital world, it is not difficult to discover what you are looking for. Want to know how to bake cookies? Simply Google it. Looking for the best fashionable clothes as per current trend? Google is right there to help you choose the best one.
Besides this, social media is another great platform where you can know more about how satisfied people are with a certain restaurant. Many food businesses compete with each other to develop strong brand visibility and a good image in front of the general public.
The same thing goes for restaurants as well. Depending upon your taste and preferences for the cuisine, you can discover the best option available out there. You can visit different online directories and food-based sites for reading reviews and ratings. This will help you out in a better way to make a much more informed decision for yourself.
However, wherever you go on the internet or social media, you will always find the Poet Boutique Restaurant in the good books of people. Why? Because they always value their customers with exceptional services and quality food.
Poet Restaurant, being the best desi restaurant in Lahore, has secured good ratings and reviews from customers. Not only this, but the restaurant is also giving a great deal of tough time to its competitors.
Don't Forget To Bring Quality of Service into Consideration
Whenever someone is looking up for finding the best restaurant for dinner, they usually make sure to choose the one from where they can get the best quality and delicious meal for their taste buds. However, it is also important that both the quality and way of service also matter a lot besides a high standard of food.
Let's suppose that you had weekend plans with your family for a special dinner. But are not sure where to proceed so you have just searched on the internet. You found a certain restaurant appearing to be a good fit as it offers the best quality continental food.
Within a blink of an eye, you along with your beloved ones leave for dinner and have just reached the destination. Everyone is hungry but excited to take the first bite of the delicious sausage and potato casserole. The waiter is coming towards your table. The closer he comes to your table, the faster the heartbeats of you and your family.
But suddenly out of nowhere, he gets slipped in the middle and falls on the ground along with your feast. Thus, wherever you see, you find your meal spread everywhere on the ground. Besides this, you haven't been properly compensated for the loss. What happens next? Obviously, you will get annoyed and leave unsatisfactory remarks. Also, you will post across all the platforms where that particular restaurant has secured an online presence.
When it comes to quality service, Poet Boutique Restaurant, a top restaurant in Lahore is quite different and unique from others. Poet Restaurant is not only known for the best food but also for professional and friendly services. Our restaurant staff consists of skilled, motivated, courteous, and friendly individuals. They know how important it is to keep customers satisfied and provide them with services to the best of their abilities.
Our staff is quite cooperative and will waste no time in solving customer's problems at once. Therefore, Poet is one of the most famous restaurants in Lahore that is known for the best quality service as well as food.
Final Verdict
In this article, we discussed how to select the best restaurant in Lahore for dinner purposes. Nowadays, it is quite difficult to find out the perfect food spots and beat down your hunger. There are a lot of options out there but people find it difficult to choose from.
Besides this, no restaurant is best just like the Poet Restaurant in terms of reputation, excellency, and quality. Therefore, if you are severely hungry or want to make your night special and memorable, we are ready to serve you. Book your private reservation at Poet Boutique Restaurant and enjoy yourself with your beloved ones.