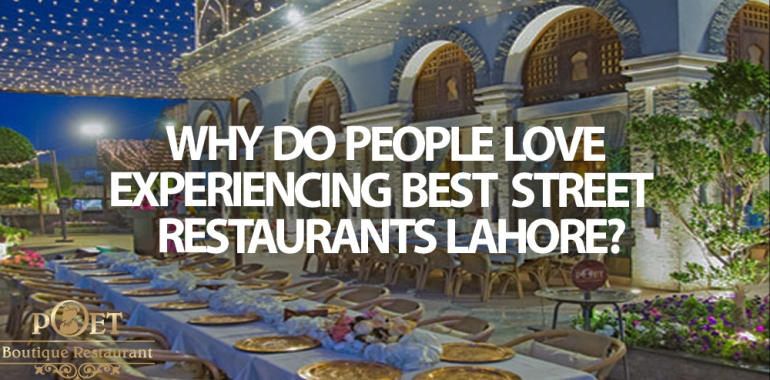 Why Do People Love Experiencing Best Street Restaurants Lahore?
If you are a resident of Lahore, you might have seen many small restaurants around the city!
These restaurants are arranged in specific areas. As time goes by and restrooms start showing up, the area turns into a food street. But how to pick the best street view foodie place?
Well! When we talk about food and Lahore, we first think about variety. So, where can you find the best street restaurants Lahore? If you want an answer to this question, you need to understand how the local restaurants run.
It is common for people to get confused between local restaurants and high-end restaurants functioning in the same area!
Food lovers have made it into a trend to try many street restaurants. A lot of people tried to take part in this fashion. There are many types of food that you can eat at street restaurants. People love St restaurants for the creative approach they adopt.
People Love to Try Best street Restaurants Lahore, But Why?
Lahore has been a metropolis city ever since its independence. Hence, the changing times have a great impact on this city.
You will often see new trends coming up around the city in terms of food. This happens because the people in Lahore want to have variations.
Are you surprised by how people respond to the ambiance of the restaurant? The changing times are half-built at formation among people. The changing priority means that people prefer other things over food now. This means when they dine out, they prefer to have an ambiance and a piece of good music around them. So for them, a dining experience is more than cuisine.
1.     Making Them Approachable
If you want to establish a new restaurant in Lahore, direct it towards food lovers. Food lovers want more than just a fine dining experience. Sometimes they're looking for a light meal. If you want to be one of the Best Street Restaurants Lahore, you need to design your menu with lighter meals. However, some people do not prefer the local restaurants considering the seating arrangement.
So how can you get a fine-to-dine-on ambiance with the street restaurant cuisine?
Well! This is where the innovative idea of the best street restaurants comes to mind. Restaurants like the poet restaurant provide a high-quality ambiance with sophisticated arrangements. They ensure you can dine with style while not worrying about heavy meals.
2.     A Place Worth Flaunting
It has become a trend that most people visit restaurants to get good pictures. So you can attract a greater audience with a unique selling point. The time you invest in designing your restaurant will provide you with long-term benefits.
Nowadays, ambiance plays a greater role in retaining customers. Restaurants like the poet banquet restaurant make sure that the place is booming with entertainment to keep their audience attracted.
3.     A Place with Good Ambiance Outside
Are you confused about how to set the perfect ambiance for your restaurant? Consider the poet restaurant, which is perfectly divided for all sorts of audiences. Moreover, it has a fountain set for the ancient Ghazal collection. It has a perfect balance for all age groups. Not only this, they are putting the right effort into keeping their food quality up to the mark.
4.     Following Specific Themes
If you want to design one of the Best Street Restaurants Lahore, you must ensure that it is based on a certain theme. You cannot let things go all over the place. Therefore, a dedicated theme serves you in the best way possible. If you try to mix up multiple teams, you'll create a mess.
Don't worry about the theme you chose. No matter what theme it is, you will attract an audience. Your aim should be to come up with something unique. While you're busy designing a theme, ensure it is comfortable for the audience.
5.     Known for Specialties
The Best Street Restaurants Lahore also adhere to the specialties trend. Similar to neighborhood street restaurants, these contemporary ones offer unique features. It serves as a draw for foodies who want to sample something genuine and distinctive. They'll visit a restaurant and eat there. It keeps the restaurant's operating costs and its competitors to a minimum. With fewer cuisines on the menu, the restaurant offers tremendous value.
6.     Ideal Place for Gathering
Lahore's street cuisine is becoming more enticing and glorious thanks to The Poet. The restaurant provides a high-end dining experience together with sizable meeting space. You may reserve gatherings and celebrations at the restaurant in addition to family dinners. It allows you to enjoy the greatest ambiance, cuisine, and aristocracy at a fantastic location you can only dream of.
Final Verdict:
One of the best and most renowned restaurants in Lahore, Poet Boutique Restaurant offers delicious food, a cozy atmosphere, a prime location, as well as a variety of additional attractions.
However, It is the ideal location to visit if you love great scenery and want to try the best-flavored cuisines. The poet restaurant is right next to Minar e Pakistan. This makes the restaurant a good sightseeing spot too!