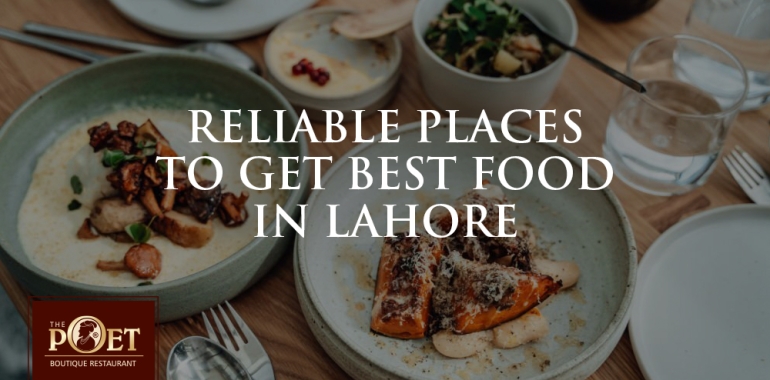 How Can You Choose Reliable Places to Get Best Food in Lahore?
Most people think that they can't find the best food in Lahore. But it is not a major problem. The reason is that Lahore is the center of the food. So, you can enjoy any amazing food that you want to eat. But remember you need to choose the best place because not each place offers quality food. It is correct that if you have a lot of choices, then these may confuse you.
If you want to find a quality food place and can't find it, then you are at the right place. Here, we will advise you on some vital tips that will help you to find quality food. So, let's take a brief look with us at these tips to find the best restaurant like Poet Restaurant.
Things to Tackle While Choosing Best Food in Lahore:
Most people visit restaurants with their family or friends. So, it is vital to find the best food that we all like. But the major problem is the preference of the best place because there are several options to choose from.
So, because of many options, they become confused and can't decide where to go. As a result, they visit the same restaurant again and again. Therefore, here, we are discussing the following tips that will help you to make the decision:
Check the Location:
When you decide to go to any restaurant, then the main factor is the location. It is important for you to check the location of the place and decide whether you have enough time to go there or not. If you think about and check the location, then it becomes easy for you to decide on the restaurant. Further, location also helps to go to areas that relate to public transport.
Indeed, different locations have the best food. Let's take an example; if you go to a seaside location then there you can enjoy seafood. While if you go to the location in the center of the city then there you will enjoy fast food or other food.
Check their Budget:
Obviously, you want to go to a restaurant that has quality food but has a low rate. So, you must check it to keep your budget in place. Indeed, it is a very wise decision to find a restaurant with the best food and low price.
It is true that when you go to any restaurant, you first discuss the price even when you are outside the restaurant. So, it is good for you to first check the budget of the place. If it is according to you and provides quality food, then you can choose that restaurant. We suggest you visit the Poet restaurant for a better experience.
Cuisine and Food:
Suppose you have decided to go outside to any restaurant. Then you must choose which food you want to eat so it will help you to make the right decision. No matter if you want to eat Japanese food or something else. You can easily explore different options of the best food in Lahore. Still, if you are unable to find the best place, then you can also do some search on the internet. It will help you to find the best eateries in your area.
You can also talk to your friends and family to know which restaurant should be visited. Further, they will also help you to make the decision that which restaurant must be avoided. If you are still worried about picking the right food point in Lahore, then you can check the new restaurant each month. Then soon you will find the restaurant according to your taste.
Explore The Restaurant Service:
The first thing that you must consider is the food. At the same time, the second thing that you should consider is the service of the restaurant. Suppose the restaurant is offering the best food in Lahore but offers poor services. Then you don't want to go there and come back without eating. So, in that case, you must check whether the restaurant is offering quality services or not.
If you want to check the services of any restaurant, then you can also check its reviews online. Further, you can also ask your relatives or friends who have visited that restaurant. If the restaurant does not have good services, then you must see any other restaurant.
Check Hygiene in the Restaurant
You should check the restaurant where you want to go to eat food. You should do it before booking the table and also go to the washroom if you see that everything is ok and the washroom is clean. Then it is just that restaurants take care of cleanliness and follow hygiene standards.
Check Their Social Communities:
Finally, you have checked online reviews, but you are not satisfied. Then the other option is to explore different food points on social media. So, you can find different food communities that will help you to locate the best food in Lahore. It will assist you to know everything about the restaurant. You just need to post your query, and you will receive so many suggestions.
Remember one thing that most people recommend to you in one place, but it is not true you will also like it. We suggest you take away from scammers that can tell you any random place. So, you must check the location of the recommended place.
Final Verdict:
Finally, we have discussed the tips that you should follow to find the best food in Lahore. So, we suggest you must consider these tips to enjoy quality food. You can ask other people about the best place and also can do a search.
Further, there are different restaurants that offer quality food. But you should also consider budget, cleanliness and other factors. Try out some new places and soon you will find the place of your taste. If you follow all the above-mentioned tips then definitely you will find the best restaurant for good food. Lastly, we suggest you visit the Poet Restaurant, and we assure you that you will never forget it.