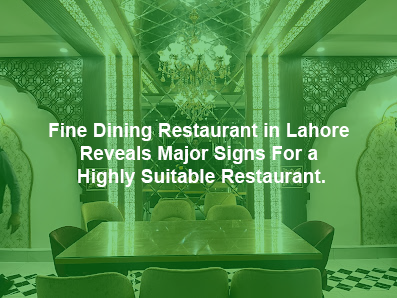 Fine Dining Restaurant in Lahore Reveals Major Signs For a Highly Suitable Restaurant.
Restaurants are a place that everyone can enjoy. but if you eat out often, you know it's not always a pleasant experience. sometimes people don't have the option to do anything else but still feel that something was wrong with the service or food. On the other hand, there are restaurants that deliver top performance and create the best atmosphere for their customers. If you want to know about these types of restaurants, then this post presented by the fine dining restaurant in Lahore, Poet Boutique Restaurant, will help you and tell you some tips that you should be aware of the next time you visit a restaurant.
Why do People like To Go to a Restaurant?
Visiting a restaurant is not just for the purpose of dining but also interacting with different people. You get a chance to meet with your long-time friends or family members for sharing a meal together. 
Restaurants provide a relaxed and comfortable environment where people can relax and enjoy each other's company. People usually visit restaurants on weekends as taking a break from a busy and hefty daily life routine even for a few minutes on weekdays is quite hard. 
Therefore, by visiting a restaurant, people create some special memorable moments and add charm to their dull routines. And no one understands this much better than the fine dining restaurant in Lahore, Poet Boutique Restaurant.
Fine Dining Restaurant in Lahore Reveals Signs of a Highly Suitable Restaurant
Following are the best ways through which you can easily recognize if a certain fine dining restaurant in Lahore is highly favorable and the best choice for your needs
First and Foremost, the Restaurant Will Be Clean.
This is the most important and essential trait that people look for in a restaurant is how much clean and hygienic certain restaurant is. We all love and adore cleanliness in our daily lives, (whether professional or personal) beyond normal levels. 
We always desire our homes to be the cleanest, most hygienic, and most presentable places. And when it comes to restaurants, they are no exception. Why? Because restaurants must take care of their customers by providing a dirt-free and environment-friendly experience to the diners. 
They can't take a risk of compromising the customers' health. Or the people will look and visit somewhere else to get the desired dining experience. Therefore, if a restaurant fully maintains cleanliness, and hygiene and properly follows Standard Operating Procedures (SOPs) just like the Poet Boutique Restaurant, then it is definitely a good choice for you.
Poet Boutique Restaurant is one of the fewest restaurants in Lahore that is highly sensitive in matters of customers' health. The desi restaurant in Lahore not only wants to give customers a chance to enjoy the unparalleled desi taste that no one offers. But this restaurant also wants to ensure to keep you away from unhygienic conditions and provide you maximum convenience & pleasurable experience. 
The Customer Service Of A Restaurant Must Be Strong.
Another important factor to look for is how efficient, quick, and effective the customer service of a particular restaurant is. Customer service is a strong pillar that is responsible for keeping a business of any niche intact. In its absence, any business will gradually begin to fall apart before it can ever realize it.
Usually, customer service seems underrated. And all the credit goes to branding, and marketing activities a restaurant carries out on a scheduled basis. However, it is important to note that no doubt marketing helps you spread the word of mouth and inform others about what you do.
However, it helps you in winning only half the battle as attracting customers is not enough. Restaurants also have to retain them not only for smooth functioning but also to provide customers with the exact services they expect and completely satisfy them. 
For example, if you noticed some flaws and imperfections in your meal, the restaurant staff must compensate either by providing you with the same dish or any other meal of your choice free of cost. This will result in a soft corner developed in your heart for that certain restaurant. 
Poet Boutique Restaurant is a perfect example of a restaurant having robust, efficient, and quick to resolve different customer problems. The staff is level-headed, patient, friendly, and professional enough to impart a solid and positive impression at first sight. 
This is why the fine dining restaurant in Lahore always witnesses a 100% customer retention and satisfaction rate and is the number one choice for the majority of people.
The Restaurant Is Highly Family–Friendly
Another beautiful trait a restaurant must display is the extent of family-friendliness. Since the restaurant is a social place where different people along with their family members or friends visit to do something unique. Therefore, a restaurant must be family-friendly and instill such feelings and vibes within the customers. 
So in case, if you don't get a family-friendly feel or vibe, then it is likely that a certain restaurant may be a less favorable choice for you. Whenever people choose to visit and dine in a certain restaurant multiple times, it is because they make decisions on the basis of their gut feelings or simply intuition. 
The majority of people trust their inner senses in the first place. Now it is quite obvious that if your inner sense informs you that something is fishing or not right about this restaurant. 
Or if you have made outdoor dining plans with your family but the restaurant doesn't seems family-friendly, then what's the use? Why bother it or waste your time and money on such a place? Therefore, a restaurant should seem a highly family-friendly place before its target audience, just like the Poet Boutique Restaurant.
The fine dining restaurant in Lahore well knows the importance of family. It is also aware of the fact that the diners arrive to spend quality time with family members besides eating their favorite meal. So if you get a chance to visit the Poet Restaurant, you will be amazed at how family-friendly this restaurant is.
Here, at Poet Restaurant, your children can get free photographs along with fancy birds along with a golf cart ride across historical landmarks such as Minar-e-Pakistan, Lahore Fort, etc. Not only this, but you can also organize a sweet birthday reservation for your younger siblings, nephews, kids, and grandsons/granddaughters.
The Restaurant's Location Is Accessible For Everyone
Location is what exactly makes a certain restaurant stand out from the competition. It also defines why a certain restaurant is much better as compared to its competitors. If the location is easy to find out, then it may expect highly fortunate outcomes in the form of more customers and thus more profit.
It is obvious that everyone wants to dine in at a restaurant that is more accessible to them. And why they shouldn't look out for the most accessible options? They are about to invest money, time, and fuel to reach their destination. 
It is definitely no use if you drive your car quite long all the way to dining in a restaurant. You spent a lot of fuel and got stuck in heavy traffic. Even after overcoming all such hurdles, you are unable to find that specific restaurant. Why? Because it doesn't have a main location or is located within an area with low foot traffic. 
Such kinds of incidents will only ruin your optimistic expectations and tire you to enjoy the best dining experience. And you will definitely not like to experience the same thing over and over. It's not only you but the majority of people who dislike eating at such restaurants. And usually foot traffic across such areas is too low to get more customers. 
But usually, it is a very rare case. A fine dining restaurant in Lahore like Poet Boutique Restaurant does have a prime location (Greater Iqbal Park and Lake City Mall) and is easily accessible to everyone. People will hardly face difficulty in finding it out and will be able to get more comfort and enjoyment from the rooftop restaurant in Lahore. 
Restaurant Provides Unique But Great Ambiance
Another sign you must keep an eye on is the ambiance a particular restaurant is providing to its customers. Ambiance matters a lot just as the food does. Diners don't only arrive at restaurants to eat the delicious food as they can do it in their homes too. They only need to make sure to eat their favorite meal in an awesome and comfortable environment.
The ambiance is another major factor that will let you know if you should spend money for eating in this restaurant or not. Every food spot offers a different kind of ambiance to make sure it successfully meets the customers' expectations. However, there are only a few restaurants such as Poet Boutique Restaurant, that are able to make it to the finish line.
A restaurant with quite a great ambiance always ends up victorious and enjoys major advantages such as repeated visits from existing customers, along with countless good reviews. The surrounding environment is highly responsible for influencing us and our moods. A good one will always make us happy whereas a bad environment will have the opposite effect.
Poet Boutique Restaurant is one of the fewest restaurants in Lahore that is not only known for the best and matchless desi, royal, and Mughlai cuisine. But it is also famous for the unique ambiance it provides to its customers and target audience. You won't be able to take your eyes off the history-inspired architecture of the restaurant. 
While dining in the restaurant, you will enjoy the ambiance every single minute. You will feel like you have returned to the historic times when the Mughal era was on its peak. This is the reason that people frequently love the best ambiance restaurant in Lahore and appreciate it for all the impressive work and performance the Poet Restaurant provides to its customers. 
The Food Must Be Served on an Immediate Basis
Another thing to consider is to see how much time from order you receive your meal. This is one of the most important factors. It will help you if this particular restaurant is a good pick. It will also let a certain restaurant decide how much new and existing customers are satisfied with the service and food quality. 
There may some people who are quite patient and level-headed at a considerable level. If they have plenty of time and nothing important work to do, they would never mind if the food is a bit later. But usually, most of the customers are already quite busy and can hardly visit restaurants with their beloved ones.  
Therefore, they do expect their favorite meal to arrive at the exact time. And when it happens, they get more satisfied and would always make multiple visits in the future. Just like the majority of people, you will also have the same expectations that a certain restaurant immediately serves your favorite food. 
And in case your meal is a bit late, then that restaurant must come up with a good reason. Otherwise, a restaurant committing late food serving every time is definitely not a suitable pick for you.
But Poet Boutique Restaurant, the fine dining restaurant in Lahore is far different from such food places. The desi food place in Lahore never misses a chance to impress diners through its quick service. Why? Because the Poet Restaurant knows that customers' time is valued more than anything else. Therefore, it is the aim of Poet Restaurant to meet the diners' expectations in a way that will amaze them.
You Get a Good Feeling As Soon as You Walk In
Another important trait to look for against a certain restaurant is what kind of vibes you are receiving from it. While taking the first step into the restaurant's entrance, you may feel a wide range of emotions. Are you feeling excited? Or you are suspecting that something doesn't seem right about this dining place.
The ideal restaurant will never make the diners feel uncomfortable. And the customers will never regret that they could have taken more time to go to a much better place. Usually, the majority of people follow their gut feelings whenever they are about to do some activity. The same is the case when it comes to restaurants as well.
A restaurant has a quite good enough environment to make the diners, including you, feel more good and comfortable. The restaurant staff warmly greets you with big smiles and leaves no stone unturned to make you feel relaxed. This will give you an idea about the restaurant's credibility and also why you must revisit it in the future. 
If you want to see a real-life example, don't look anywhere as Poet Boutique Restaurant, the fine dining restaurant in Lahore, is right in front of you. Whenever you visit this restaurant, you will always feel good, thanks to the awesome environment the restaurant provides. People always left with good and appreciative remarks about the restaurant after dining.
All Dishes Are In Reasonable Pricing
Usually, the most suitable option for dining is a place that offers dishes at reasonable pricing.  This way majority of people will find it easy to afford without compromising on food quality at the same time. So if you have dining plans with friends or family members, you must consider your budget first.
There may come such times when an idea about dining in the most famous restaurant arises in your mind. You are quite desperate to try the cuisine because someone recommended it to you. Or you witnessed the highest ratings for it online. But you don't have enough budget to afford it thus forcing you to find a second option, an affordable one.
However, just because the other option is affordable as compared to the first one. This doesn't mean that it is a bad one. Also, it doesn't mean that a reasonable restaurant has bad quality food; this simply means that this restaurant is highly suitable enough to give you the best experience.
Poet Boutique Restaurant is the most reasonable fine dining restaurant in Lahore where you won't have to spend too much. And at the same time, you can enjoy fine dining without any slightest drop in the food quality and taste. At the fine dining restaurant in Lahore, you can try a variety of different dishes as per your preferences.
Final Verdict
In this article, we discussed major signs that will tell you if a restaurant is highly suitable or not. There are numerous restaurants in Lahore that offer a wide range of cuisines. Thus making it difficult for anyone sometimes to choose the best suitable option.
Everyone has different criteria for choosing a restaurant. The majority of people prefer Poet Boutique Restaurant which offers different exclusive services besides delicious and quality food. 
So hurry up and book a reservation on an immediate basis in the best fine dining restaurant in Lahore.