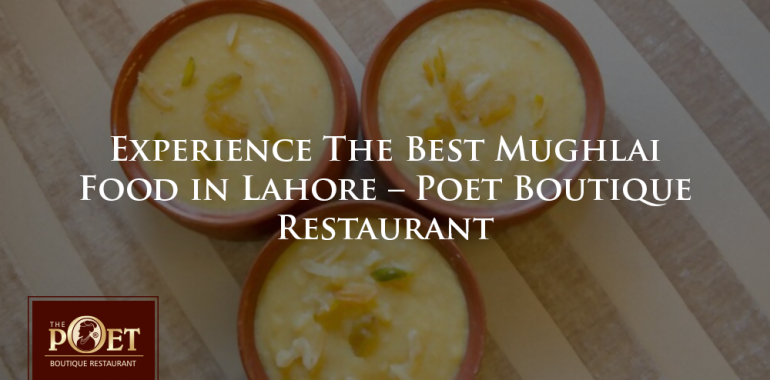 Experience The Best Mughlai Food in Lahore – Poet Boutique Restaurant
It is truly amazing that while every other part of the country is experiencing a heatwave, people from Lahore are enjoying idyllic and comfortable summers. It is not just the heat that makes this part of the country so likable; it is also the rich culture and heritage of the city that make it so special. Normally, Mughlai foods consist of three parts, which start with the main course consisting of chicken or beef and then there are the side dishes like plain rice or rotis and finally there is the curd preparation. These dishes are served with the traditional Pakistani presence of spices, which includes the Mughlai version of red chili powder and the powder made from ground almonds. If you wish to explore the Best Mughlai food in Lahore, then it would be wise to visit Poet Boutique Restaurant.
Dine-in Popular Tourist Destinations
The Poet Boutique Restaurant is located in the heart of Lahore and is a preferred lodging destination by many. The restaurant is surrounded by the beautiful garden of the Greater Iqbal Park as well as some historical monuments like Badshahi Mosque, Minar-e-Pakistan, and Shahi Qila. The Greater Iqbal Park is a popular tourist destination with a couple of historic places within its boundaries. However, it is perhaps the Poet Boutique Restaurant that is known to serve the best Mughlai food in Lahore. The restaurant boasts of a wonderful collection of Pakistani desi dishes on its menu, which guarantees a delightful dining experience every time. The restaurant offers cuisines to suit different tastes and also serves an array of international delicacies, which can easily be ordered off their restaurant menu.
Pakistani & Continental Cuisines
The Poet Restaurant has been serving up excellent Pakistani and continental cuisines since it opened. The restaurant offers its guests a wide selection of dishes on its menu, which is prepared by qualified and experienced chefs. There is a separate buffet section for visitors to help them choose their favorite dish. The buffet can be chosen from a vast variety of Pakistani dishes such as Ashkoi Kabab, Darbari Lamb Chops, Tilmil Jheenga, Fried Mughlai Prawns, Tillgoza, Chapli Kabab Khaas, Dumpukht Raan, and Murgh Tikka Nadirshah. Apart from these main dishes, the restaurant also offers a variety of snacks and desserts to entice its visitors.
Main Ingredients
The chicken or beef is marinated in yogurt and garlic before being cooked in special sauces. This is made from an excellent mix of spices like red chili powder, saffron, cardamom, and cumin. It is a delicious sauce that is extremely popular. Then comes the side dishes, which are usually of milder taste and are preferred mostly by people having health-conscious diets. This can either be stewed vegetables or rice, which are both very healthy. Green chilies, mint, and coriander leaves are other popular ingredients used in the preparation of Mughlai foods.
Popular Dishes Available at the Poet Boutique Restaurant
One of the most popular dishes available at the Poet Boutique Restaurant is Tilmil Jheenga and Darbari Lamb Chops, which is a traditional Mughlai preparation. These dishes are served along with sweet dishes and are an integral part of Pakistani cuisine. Other delicacies that are offered at the Poet Boutique Restaurant include Fried Mughlai Prawns, which is a mildly spiced dish. The restaurant also serves dessert and main dishes.
Food with Modern Spin On Old Favorites
The Poet Restaurant has also been one of the few restaurants that have kept its old recipes in service and have also tried to give a modern spin on old favorites. All these dishes are made using traditional ingredients and are served along with special sauces and techniques, so that they can retain their authentic Pakistani flavor, and are also able to attract several foreign customers as well. Poet Boutique Restaurant has an extensive variety of the best Mughlai food in Lahore and is preferred by many people for its delicious chicken and mutton dishes.
Delicious Food at Affordable Prices
This restaurant offers delicious food at affordable prices and has a great variety of dishes to offer to its customers. The best part about Poet Boutique Restaurant is that they do not charge any extra amount for delivery charges, as all the dishes are already half prepared according to your preference.
Take The Food Anywhere You Go
The major advantage of Poet Boutique Restaurant is that you can easily take this food to your office or anywhere you go, as most of them serve Pakistani food. So, if you are looking to taste authentic Pakistani and continental food most conveniently then Poet Boutique Restaurant is the place to be at. So, visit Poet Restaurant and order your favorite dishes now!