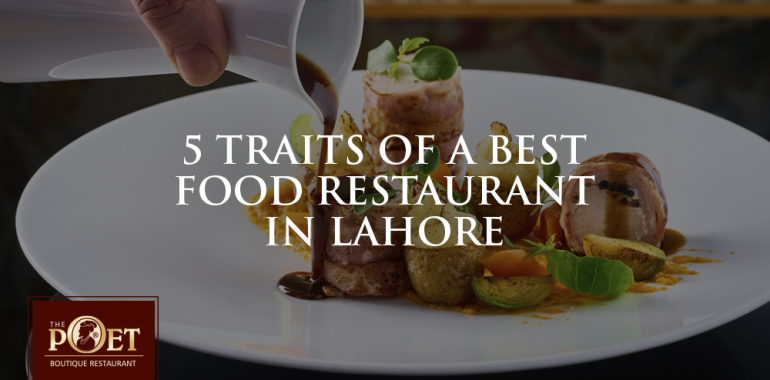 5 Traits of a Best Food Restaurant in Lahore
Lahore, the capital of Pakistan's Punjab province, is also known as the country's culinary and cultural center, as well as the country's heart. It was also considered Pakistan's largest metropolis post-independence, providing easy access to India via Amritsar, which is only 30 miles away. As a result, this city boasts a diverse range of cultures and cuisines. Lahore is well-known for its mouth-watering cuisine and an endless array of options. Lahoris are the inhabitants of Lahore, and they are known for their love of eating and food.
Every restaurant strives to provide the greatest meals in Lahore. However, when we consider the historical significance of cuisine, Lahore is a foodie's heaven. If you're new here, the tour isn't complete unless you try the street food. The offers include a wonderful balance of blended spices and meat, which is distinctive of the cuisine culture of Lahore. Everyone who dines here will have an unforgettable experience.
Poet Boutique Restaurant has won the title of Best Food Restaurant in Lahore by competing against other restaurants. Poet Boutique Restaurant offers delivery service as well as dine-in options. Their uncompromising flavors and prices separate them from other Pakistani and continental cuisines.
What Makes Poet Boutique Restaurant Best Food Restaurant in Lahore?
Highest StandardFood
The Poet Boutique Restaurant is a reputable restaurant in Lahore that has high standards for the quality of its cuisine and makes sure that customers get the same quality with each meal. Serving delicious cuisine may help them get a good name and keep customers coming back. Having a good cook means you'll be able to meet the demands of your visitors every time, and Poet Boutique Restaurant takes care of that matter seriously.
Positive Experience
According to The Restaurant Times, one of the most important aspects of a successful restaurant is the quality of the customer experience. The people that deal with your customers should be polite and have a good attitude. It is the server's responsibility to be familiar with the menu, to bring food and drinks promptly, and to promptly resolve any concerns that a dissatisfied customer may have. Our team of chefs understands their responsibilities and therefore provides each customer a memorable experience to make Poet Boutique Restaurant the best food restaurant in Lahore.
All employees at Poet Boutique Restaurant do their part to maintain the restaurant clean at all times, including the kitchen, food preparation facilities, and any other places with which customers come into touch.
A Distinctive Selling Proposition
While providing excellent cuisine and service, consumers may choose to dine elsewhere if your restaurant is too similar to others in the area. The best food restaurant in Lahoreshould has more than one distinctive features that make it noticeable in customers' mind and offer it a competitive gain over the opposition. On that subject, Poet Boutique Restaurant offers free wonders including Dancing Fountain, Free Golf Cart Ride, Free Food for Driver/Maid, Free Valet Parking, Free Photography, Free Pictures with Fancy Birds, Power Bank Facility, Live Music Daily and Weekly Surprise Lucky Draw.
A restaurant's cuisine, ambiance, and personnel are only a few of the many aspects. Your company's identity should be based on something reliable. While funny restaurant names may be amusing for the first few months, they quickly become old. Consider writing a description for a restaurant. If you can't sum up your restaurant in a single line, you may be lacking in identity.
Satisfaction with the Workforce
A well-run restaurant is the result of a dedicated staff that works hard and stays loyal to the business. A motivated workforce is a productive workforce. If employees are dissatisfied, it is nearly guaranteed that their work will reflect that discontent. As a result, one of the most important features of Poet BoutiqueRestaurant is it prioritizes employee happiness at the same level as customer pleasure.
Effective Management in the Business Environment
You'll go out of business fast if you don't price your meals correctly to cover your food, expenses, taxes, and targeted earnings. The best Food Restaurant in Lahore just like Poet Boutique Restaurant Lahore takes care of the business side of the restaurant so that it may continue to deliver excellent cuisine and service.
Proper restaurant management may also help your business make more money. You'll have to maintain track of your restaurant's finances, keep meticulous records, and keep up with ever-changing regulations like taxes and health inspections. Paying your vendors on schedule, for example, decreases the likelihood of running out of menu items.