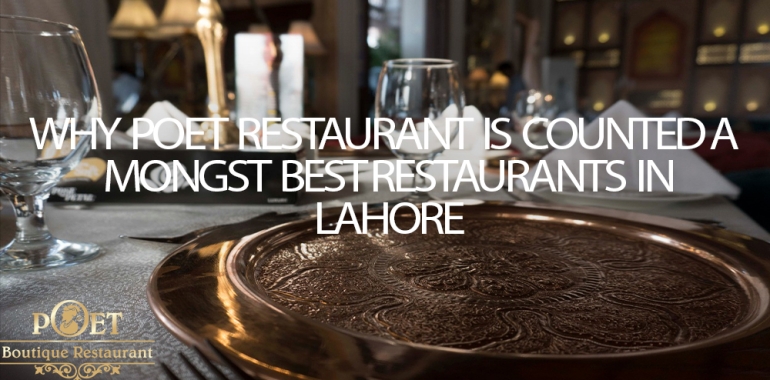 Why Poet Restaurant is Counted Amongst Best Restaurants in Lahore
Lahore is a city that thrives on food. You can find all sorts of tastes and flavors in the city when you mention the aspect of dining out in the city.
You will find many attractions other than just food. However, the place you dine at, the people, and the themes you may encounter are an experience.
In this article, we will talk about the wide range of ambiance and good food you may enjoy in Lahore.
Lahore is such a city that every location seems like a good spot for dine-in restaurants. Every restaurant carries a different ambiance. Most foodies prefer to visit Lahore because of the wide experience of the best food in Lahore.
Although, there happen to be certain areas that add up to the experience! It is commonly seen that people love the idea of fort view and riverside restaurants. It is a common go-to point for tourists!
Many historic buildings have been there for hundreds of years. Moreover, the feeling that these places resonate with cannot be explained in words.
It is observed that as more people get to know about the rich heritage and food cuisine of Lahore, they want to visit ore. People come from many places to enjoy a taste of this food. You will get both mouth-watering food and jaw-dropping views of Lahore.
Poet Restaurants Traits that Make it Popular:
If you're looking for a historical experience you will be flooded with choices in Lahore. It's. All of these dining experiences carry a different ambiance.
However, you can choose among the many places such as Minar-e-Pakistan. It is considered to be one of the most significant spots for Pakistani. It carries rich influence in terms of history.
There is a huge list of literary history and food trains along the park. Moreover, there's a conventional theme set in the park so that they can enjoy the traditional experience of royalty. So what makes The Poet Restaurant a different dining experience in terms of the best food in Lahore?
It gives you the best fort view in town!
Isn't it Amazing?
You will be amazed by the ambiance. It has many features attached along with a fort view. The additional features serve as a cherry on top for the diners.
1. Authentic Food
Food is the key aspect of any restaurant. You can never compromise over that factor. However, it is a notion among people that restaurants that focus too much on the ambiance tend to lack a bit in flavors.
Moreover, it is entirely different when we talk about the Poet restaurant. The best part about the restaurant is the menu they offer.
You will find specifications throughout the menu. The menu of the restaurant is designed while keeping the location in mind. It fits well with the whole theme. There are all sorts of Desi food, traditional and royal dishes available. You will experience a complete historic and cultural journey while dining in.
2. Rich in culture
The location, decor, ambiance, and food of the restaurant are all influenced by culture. If you want to see how Lahore used to be, here is the place to go.
Because of all the work put into making the restaurant the greatest, it is already regarded as being appropriate for tourists. Everything nice is available to you right here in the restaurant as well.
3. Literature inspired
People who enjoy reading and are drawn to literary romanticism frequent the eatery.
It is one of the characteristics that sets The Poet Restaurant apart from the other dining alternatives. The best food in Lahore, cultural and historical ties, and a literary vibe are all present.
4. Beyond food
There are many events taking place now and then. These events create a better scenario for the audience who wants the best food in Lahore. Some examples of these events are art exhibitions and poetry readings. Sometimes ghazal nights are arranged late at night.
5. Private event arrangements
The poet restaurant can be your go-to spot if you are willing to host a party or a formal conference.
You will love the idea of reserved traditional spots for private events. It almost feels like you are flaunting the Pakistani-rich culture. These events could be of any type, such as weddings, official meetings, and guest receptions.
6. Exploring possibilities
You have the opportunity to investigate a variety of options at The Poet Restaurant. Among Lahore's fort view eateries, it stands out. You are aware of every aspect that makes it the greatest. Your first visit will amaze you with how well everything works together.
Final words
Tourists often love visiting the Poet restaurant for the best food in Lahore. This is because of the beautiful attractions it provides. The restaurant has been an all-time favorite spot for both locals and tourists.
People love the menu and the taste that is carried on. One thing you need to make sure of is to have a reservation made before you visit the restaurant since no one wants to wait long hours for dining.