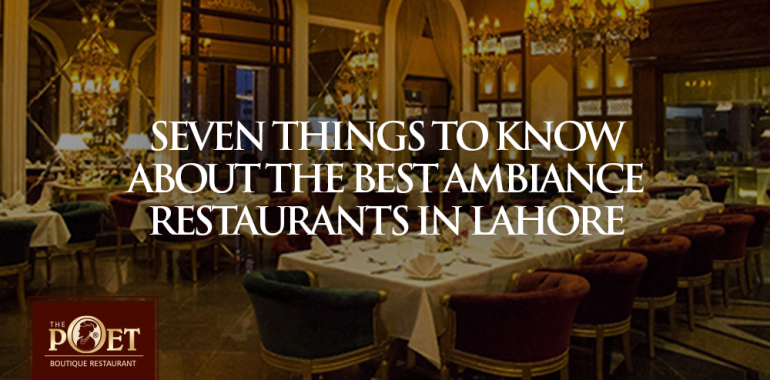 Seven Things to Know About the Best Ambiance Restaurants in Lahore
The ambiance is the second thing you think about whenever you plan to visit a restaurant. Besides having good food, you definitely want the perfect environment and ambiance. Without a good feel and mood, enjoying the ultimate cuisines at a place is impossible. It is essential to search and enlist the best ambiance restaurants in Lahore to avoid any problems.
Before you start digging into the restaurants with the best ambiance, you need to know a few things about them. Considering these factors essential for a perfect atmosphere helps you decide on an ideal restaurant.
Features that Ambiance Restaurants Hold
There is no doubt that many restaurants and cafés in Lahore are paying attention to their ambiance and settings. However, here are seven essentials you need to know.
Fixtures and Furniture
The first thing you need to observe in the Lahore restaurants' ambiance is the fixtures and furniture. It includes everything from a lampshade to a photo frame, a dining table to a sitting chair or even a sofa.
For a perfect ambiance, everything should be in perfect sync. All of these should complement each other at best. You need to check out the restaurant's interior and ensure you find it in an ideal balance before giving it a thumbs up.
Thematic or boutique restaurants pay special attention to keeping everything in perfect sync. They make sure to come up with the best setup and sync between all the interior elements, just like the Poet boutique restaurant that has everything on point from a vase to lights, furniture to dining and even culinary.
Lights
Lights are a mood for food. Believe it or not, lights strongly connect with your food and how you enjoy it. The perfect arrangement of lights creates a mood and psychological phase. Restaurants pay attention to the lights, their type and intensity.
Keeping it all flashy and fancy is not the critical factor. Giving it the right appeal and making it presentable is essential to come up with practical outcomes. The restaurant having perfectly balanced lights is the ideal one.
Temperature
The ambiance restaurants in Lahore, like the Poet restaurant, have a specific consideration for the temperature. We can enjoy our food when there is a moderate temperature. Too much cold or hot environment keeps the body uneasy, and one cannot enjoy the food.
Focusing on this point, you can have a perfectly balanced environment at the Poet restaurant. All the indoor and outdoor sitting stations have temperature control. Using the best possible arrangements, the restaurant keeps the temperature in control.
Seating Adjustment
To enjoy food, you need to sit comfortably at a location where you feel relaxed. Many people cannot eat at restaurants because the seating adjustment is not comfortable. Each table is so close to the other that people can quickly peek into the other's goods. It turns out to add more embarrassment.
However, things are pretty different in the ambiance of Lahore restaurants. Just as at The Poet restaurant, you will find seating arrangement at its best. Each table has its privacy, comfort and mobility space. You can enjoy food comfortably here.
Pathways or Doors
A restaurant is not like a home dining with only one access point. The commercial dining hall has access points for the entrance, exit, kitchen and more. There are many doors and pathways for different purposes.
Keeping these pathways and doors in flexible locations is essential for a pleasing ambiance. The walkways should be accessible for everyone and not cause problems for the sitting diners. However, the doors should be placed strategically.
Music
Music, food and mood work in sync. In a perfect ambiance restaurant like The Poet, the interior, lights, food, and music should have excellent compatibility. The historical restaurant offers recorded theme music and some on-demand tracks as well.
Here you can find a classic musical taste with an artistic touch. It suits the ambiance, environment, and overall restaurant presentation. It's essential for every restaurant.
Fragrance
Does a restaurant smell bad? Having the food aroma at a restaurant is common. It makes every guest feel hungry. However, the Best ambiance restaurants in Lahore do not have a bad smell. They pay attention to the fragrance and air fresheners as well.
Selecting a fresher with a themed touch for the restaurant makes it a perfect deal. It completes the best restaurants and gives it ideal support.
Final Verdict
Ambiance restaurants in Lahore are scarce. Not every restaurant pays too much attention to every detail, just like The Poet restaurant. It is the ultimate stop you should make if you wish to enjoy authentic cultural and Mughal cuisines.
The restaurant is not only excellent for food. Still, it has the perfect ambiance, interior, and many other things in a row. You will have a wonderful experience of being served here by the classic chefs and attendants.