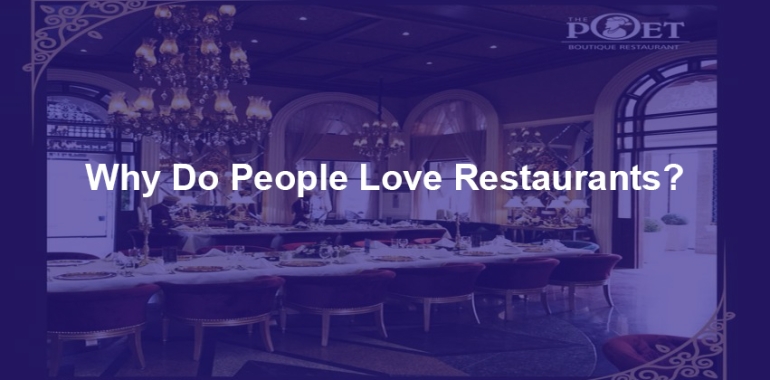 Why Do People Love Restaurants?
The restaurant is one of the favorite places that people want to visit multiple times, no matter in which part of the world they are located. Why? Because restaurants are more than just a food places. They are major sources of entertainment and pleasure. Therefore, food lovers always try to explore as many restaurants as they can so that they can find a good pick for themselves. And visit their favorite restaurant in Lahore.
Many people have different preferences when it comes to finding the best fit for themselves. Some consider the affordability and accessibility of the restaurant. Whereas others prefer those restaurants with the best quality food, service, and ambiance just as the Poet Boutique Restaurant, which is known as the best restaurant in Lahore.
What Makes Restaurant a Blue-Eyed Boy?
No matter what preferences people own, they all have one thing common in them. Restaurants are no less than a blue-eyed boy for the majority of people, especially Lahoris. Maybe you have realized or not but restaurants can truly make anyone's day. They brighten up anything by eradicating dullness and darkness.
Hardly, you will find a single person who truly hates a restaurant with all his might. Because restaurants such as Poet Boutique Restaurant, etc, never miss a chance for spreading their charm upon others and make them fall in love with it.
Similarly, restaurants can kill anyone's tiredness and turn your mood quite pleasant. You have returned home from a hefty or tiresome working day and want to relax. Visit a restaurant with the ones you care about and let the magic begin.
Reasons Why People Love To Visit Restaurants
Just as all fingers are not alike, the same way people don't have the same inclinations. Though people are fond of eating delicious food, still they will have different choices. What a single individual likes to eat may not be something that the other one would be willing to try.
But still, many people hold a soft corner for restaurants like Poet Boutique Restaurant, and desi restaurant in Lahore. They would never miss any chance to fulfill their cravings, either by hook or crook. And for making special and memorable moments, they are more than willing to go to any length.
There are a lot of reasons that ultimately lead to people making frequent visits to the restaurant, even if it is midnight or any other time. The following are the major ones.
People Are Fond of Trying New Things
Curiosity is one of the most prominent and common features existing among every single human being living up in this world. We might have different faces, traits, physical appearances, likes/dislikes, behavior, etc. But we all have one thing in common within us and that is the urge to try different things.
The restaurant industry of Pakistan is of strong potential and is competitive as well. Why? Because people are always in quest of something unique to try. There may some individuals who are okay with a single kind of experience over and over. But such people are found only in fractional amounts. The majority of people love and admire the uniqueness.
Wherever, you see, you will realize that most people get turned off the idea when they are unable to have new experiences. By visiting restaurants, you will be exposed to a whole new experience that you have never done before in your life. And by visiting the Mughlai restaurant in Lahore, Poet Boutique Restaurant, your experience will get more blissful.
At Poet Restaurant, you can try different kinds of delicious food that have a strong capability of ending up with diners licking up their fingers. The restaurant well-knows that the food industry is continuously evolving and growing. Therefore, it can't take the risk of going against the current trends and requirements of the target audience. Otherwise, it may fall apart.
Poet Restaurant allows diners to enjoy different kinds of food. This is the reason customers couldn't do anything but crave more. You may have also felt the same emotions and feelings if you ever ate a meal at the Poet Restaurant.
Restaurants Offer a Variety of Experiences
Restaurants offer a variety of experiences to their customers. Some restaurants are known for their fine dining, while others are known for their casual atmosphere. Some restaurants are known for their unique cuisine, whereas others offer traditional food. No matter what type of experience a customer is looking for, they can find a restaurant that suits their needs.
However, there are a few things that all restaurants have in common. All restaurants strive to provide excellent service to their customers. They also work to create a pleasant and welcoming atmosphere.
This is important to keep in mind that you can't win customers' hearts or retain them if they don't get variety. Otherwise, they will look somewhere else and get the experience they desired for a long. Remember customers don't badly need to eat from your restaurant. But what you have to offer them is something that matters a lot to them.
And of course, all restaurants want their customers to enjoy the food they serve. Whether a customer is looking for a luxurious dining experience or a casual meal with friends, the restaurant tries to find what they are looking for. Restaurants offer different experiences that appeal to a wide range of customers.
But not everyone is successful in offering a diversified just like the Poet Boutique Restaurant. The Mughlai food place in Lahore knows exactly how to tap into its target audience or customers. This is why Poet Restaurant always provides them with a different kind of experience that they may have never witnessed in their whole life.
A Perfect Spot for Love Birds
Whether you might have noticed or not, restaurants are not mere places to eat. It is also a perfect choice to have a great date night with your better half. And if a restaurant fails to offer specialized dining services separately for couples, then it may not be viewed as the perfect option.
A restaurant is a perfect spot for love birds. They can not only share a delicious meal but also indulge in meaningful conversations and create special moments. Not only this but if you are about to date someone for knowing them. If you want to convince or pamper your angry partner, you can take them to their favorite restaurant and buy a meal that they wished to eat for a long time.
Aside from that, if you have already tied the knot with someone and want to celebrate a birthday or anniversary with your partner, there is no perfect place other than the restaurant. Why? Because eating the best quality and delicious food with your better half has a strong potential to reignite the spark or spice up things between you two.
Though, there are many restaurants where you can visit with your significant other and get the best possible experience ever in your life. But Poet Boutique Restaurant pays special importance to this area. It makes sure to satisfy the love birds by making their day or turning their evenings more special.
Poet Boutique Restaurant also offers candlelight dinners in Lahore. So if you have any such plans, you can book a reservation and have the best romantic dinner places in Lahore.
To Get Rid of a Dull Routine
Most of us are living quite busy lives fulfilling different rights and responsibilities assigned to us. Hardly there comes a moment when we can relax by carrying out our favorite activities or going on outings with our families.
Usually, we have a typical routine of staying in offices from 9 to 5 and working hard till the weekend. And afterward, we are so much tired that we can hardly do any activity with proper agility. Such a dull routine can make your life boring. And it may feel that everything is proceeding at a quite slow speed.
Many people especially in Lahore, Pakistan are passing through such a kind of dull routine. But you can get rid of it by spending some time in a restaurant. Why because there is no better place other than the restaurant. You can eat delicious food and while at the same time, talk about how your good your work is going at the office.
And dining in the Poet Boutique Restaurant is no less than the icing on the cake. Poet Restaurant well knows how to keep customers relaxed, especially those who need a break from a quite tiresome routine.
And for this purpose, the best ambiance restaurant in Lahore provides not only a tasty meal but also a unique and attractive ambiance due to which diners can't help but end up in awe. No one provides a great and creative ambiance just like Poet Boutique Restaurant.
A Great Place To Meet With Your Friends
If you want to visit a great place to meet friends but find difficulty in choosing the best pick. A restaurant is the best option. Why? Because a restaurant is not just a place to eat something great; you can do it at your home too.
You can witness a quite comfortable environment while dining in the restaurant. And when your friends are along with you, then it will be quite an awesome experience. If someone is having a bad day, dining with friends will surely turn it into a good one. Plus, there's always something to eat and drink, so you won't be hungry or thirsty.
Whether you're looking for a casual place to chat or a more luxurious setting to impress, you'll find a restaurant to suit your needs. So the next time you're looking for a place to hang out with your friends, remember that a restaurant is always a great option. At a Restaurant, with your friends, you can try different food and beverages that you may have never experienced in your life.
Poet Boutique Restaurant dominates its competitors even when it comes to offering casual dining. This is why many people visit Poet Restaurant to making memorable moments with their friends. Even if you want to organize a birthday celebration for your friend, the best place for a birthday celebration in Lahore is always ready to cater to and fulfill your needs quickly and efficiently.
The Opportunity To Dress Up
We all are fond of being in a dazzling and appealing outfits. We always try to make sure to be in quite proper, and appealing clothes. But usually, special occasions like wedding ceremonies, parties or others seldom arrive.
However, that doesn't means that you will have to wait for such occasions. You can also make plans of dining in a restaurant with either your friends or family. This is helpful for those people especially females who are fond of staying presentable regardless of the moment.
When it is about to visit the restaurant, it's an opportunity to dress up. You can wear your best clothes, the nicest jewelry, and presentable shoes. It's a chance to look your best and feel confident. When you look your best, you feel your best. And when you feel your best, you're more likely to have a good time.
An evening in a pleasant restaurant is also an opportunity to socialize. You can meet old friends or meet new ones. You can have meaningful conversations or just enjoy the company of others. Either way, it's a chance to connect with others and make memories.
And by booking a reservation at Poet Boutique Restaurant, you are absolutely making your experience better. Why? Because dining at the best desi food restaurant in Lahore will give you a royal and luxurious feel up to an extent that it will ultimately make your day. Not only this, but you will feel more comfortable in your skin than before.
To Explore Different Cultures
Restaurants are not only meant to fill your tummy and beat down your hunger with meals. They also serve the purpose of introducing you to different kinds of cultures. This way you can know more about the traditions and culture of a certain region. By eating Chinese cuisine, you can know more about Chinese culture and the same goes for continental and Arabic, etc as well.
There are many ways to learn about different cultures and one of them is through food. When you go to a restaurant, you have the opportunity to try new things that you might not know. It can be a great way to learn about other cultures and broaden your horizons.
Another benefit of trying new dishes at restaurants is that you can learn about the history and culture of the cuisine. Many restaurants have staff who are knowledgeable about the food they serve and can share stories and information about the culture it comes from. It can be a great way to gain a deeper understanding of a culture and its customs.
Just take an example about Lahore. Lahore is the 2nd biggest and major city in Pakistan which is quite a historic one. It has a rich culture and tradition that shows strong reflections of the historical era, especially the Mughal Empire (when it was at its peak after 1556). Besides this, more than 50% of Lahore's population loves to eat desi and Mughlai-style food.
Therefore, if you are a foreigner and want to know about the culture of Lahore, then visiting the historical restaurant in Lahore, Poet Boutique Restaurant will help you out with everything you need to know.
Poet Restaurant not only provides a wide variety of desi and Mughlai-style foods. But the architecture of this restaurant highly complements its cuisine. This is the reason Poet Restaurant is liked, preferred, and recommended by many people regardless of their origin, color, race, etc.
Restaurants Provide Various Facilities and Offers
Besides food, people also love to visit restaurants and enjoy just because of the various facilities. However, the number of facilities varies from restaurant to restaurant.
But when it comes to offering different various facilities, Poet Boutique Restaurant always stays on the top. Why? Because the restaurant highly values its customers and wants to provide comfort in every possible manner.
There are various facilities only offered by the vintage food restaurant in Lahore, Poet Boutique Restaurant, such as free food for drivers and maids, wheelchair facilities for senior citizens, free parking for more than 500 cars, and much more.
Final Verdict
In this article, we discussed various reasons people love restaurants. The restaurant simply is a very great place that has become an integral part of our lives. Therefore, it would be more than difficult to completely imagine a world without restaurants.
There are many restaurants in Lahore but not every restaurant is lucky enough to stand ahead of the competition just like the Poet Boutique Restaurant.