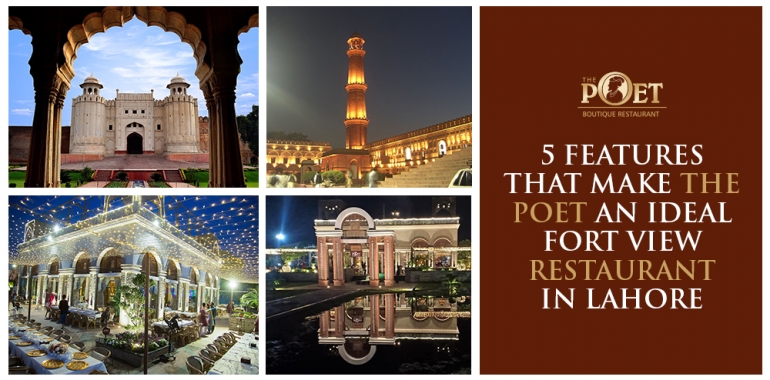 5 FEATURES THAT MAKE THE POET AN IDEAL FORT VIEW RESTAURANT IN LAHORE
Do you have a zeal for historical places and often visit them during the weekends? Shahi Qila, due to its historical value, is one such place that holds a special place in our hearts having a cultural connection with Lahore's past. And we're not just talking about Lahore Fort (otherwise known as Shahi Qila) but the facilities that one can find around it upon a weekend visit. If you don't want to miss the sight of Lahore Fort while eating, The Poet Restaurant could be an ideal place for you. Come, let's discuss why you should reserve a table at The Poet when you wish to visit Lahore Fort and make your evening wonderful.
NEARNESS FROM FORT
In the restaurant and hospitality industry, everything is kept according to the ease of customers. If they like the plans, it's a success for the management and if they don't then a matter of concern that would need quick fixes. So, we kept our location as close to the Lahore Fort as we could just to facilitate those visiting this part of the town due to Lahore Fort. When they come looking to revive the Mughal era memories, they find as closer upon concluding their historical visit at the Lahore Fort.
FASCINATING VIEW
The Lahore Fort has many nostalgic views from inside and out and there's no doubt that it is a wonder of Mughal architect. And if you still want to enjoy analyzing different angles of the Fort during the supper, you get a fair chance to view the fascinating design of the Fort from our rooftop. We've kept our restaurant's design flexible enough for enjoying the fascinating city view from our courtyards and rooftops which make The Poet and ideal Fort View Restaurant in Lahore.
MUGHLAI THEME
When you visit Lahore Fort, you have plans to relive the Mughal era, don't you? We gracefully fulfill your wish to experience the royal lifestyle in our restaurant with our Mughlai themed ambiance. Our aim is to keep the cultural values alive through our restaurant's look and feel and we achieve this objective by keeping everything as close as the Mughals used to have in their castles. This, making The Poet a perfect fort view restaurant in Lahore, gives you another reason to reserve a table at the Poet Restaurant and enjoy the dinner.
VERSATILE SEATING PLANS
Upon listing down the qualities of an ideal fort view restaurant in Lahore, you must not skip seating plans in a restaurant. We, keeping in view different weather conditions, ensure that you enjoy your stay at The Poet Restaurant with multiple seating options. You can enjoy the weather from the rooftop, reserve a table inside the restaurant or arrange a party in our courtyards.
ROYAL THEMED CUISINE
Speaking of fort view restaurant in Lahore, we never skip the most important aspect of a restaurant, the food. We offer a myriad of Mughlai themed cuisine so you can fulfill your hunger in a truly royal style and take back some beautiful memories while visiting the Lahore Fort.
Reserve your table at 0304 1112221 now and enjoy your evening at