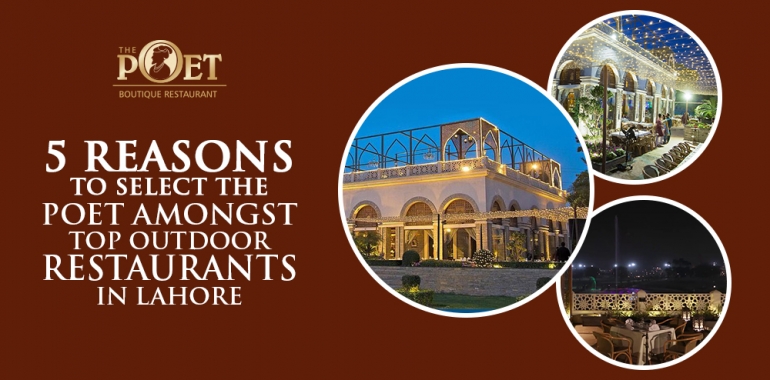 5 REASONS TO SELECT THE POET AMONGST TOP OUTDOOR RESTAURANTS IN LAHORE
As the weather turns pleasant and showcases a beautiful narration of the romance between the sky and the clouds, the eating preferences change. We're sure you'd want to step out of your houses and eat at an amazing place to make your day a memorable moment with your family, friends or colleagues. Before you make a choice, we'd like to propose some reasons to eat at The Poet Restaurant, one of the best Outdoor Restaurants in Lahore. Come, let's discuss all the right reasons to reserve your table and eat in an alfresco way.
MESMERIZING CITY VIEW
One of the prime reasons to select The Poet is its ideal location that allows you to amuse yourself with the fascinating city view. The rooftop and the pavements along The Poet offer you an easy way to revive the old memories associated with Greater Iqbal Park, Badshahi Masjid and Shahi Qilla. Select one of the top outdoor restaurants in Lahore and enjoy your food while praising the beauty of Lahore city.
PERFECT FOR SPECIAL OCCASION
Are you planning to dine out on a special occasion? And your preferences include a rooftop or an outdoor location? Well, you can consider The Poet that is one of the ideal outdoor restaurants in Lahore that entertains your request to arrange a remarkable event. Whether it's the birthday party, a success celebration or the anniversary, you can count on The Poet Restaurant on all occasions that demand a different arrangement for the guests.
VARIOUS AMUSEMENT OPTIONS
No dine out plan is complete without considering the different means of amusement and The Poet understands the need very well. When selecting one of the top outdoor restaurants in Lahore, do consider the kind of amusement options available other than food and seating plan. The Poet, as a kind gesture towards its honorable guests, organizes musical events in collaboration with famous and local classical singers. This gives you enough confidence to dial-up our number and reserve a table, right?
FASCINATING WEATHER CONDITIONS
From a sunny day to rainy weather, we are always ready to receive you with a smile and make the dining out experience unforgettable with our outdoor seating plans. Because with little creativity and wise seating plan, any weather can be turned into a pleasant atmosphere to dine out. So, when you decide to select one of the top outdoor restaurants in Lahore, The Poet Restaurant proudly steps forward with its adaptive seating options.
NUMEROUS CUISINE OPTIONS
Lastly, food is the common selection metric for choosing one of the top outdoor restaurants in Lahore. Because every facility appears to be weightless if the food is not tasty and this leads to a bad mood and a spoiled day. We, at The Poet Restaurant, give due importance to our cuisine and menu for offering a wide variety of cuisine to our honorable guests that select us over other restaurants in town.
Dial 0304 1112221 to reserve your table at The Poet Restaurant and eat at one of the top outdoor restaurants in Lahore.