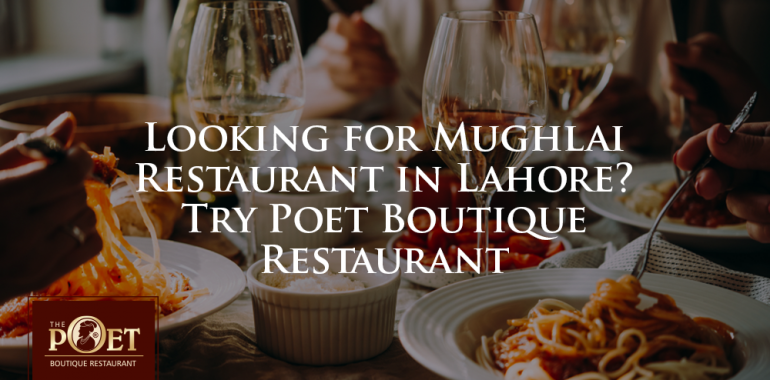 Looking for Mughlai Restaurant in Lahore? Try Poet Boutique Restaurant
Mughlai restaurants have opened at various locations in the city of Lahore. Some Mughlai Restaurants in Lahore are located inside the old parts of the city, while others are located in the periphery. The latest addition is Poet Boutique Restaurant. It is a newly constructed restaurant designed to look contemporary. Located right in the middle of the Greater Iqbal Park. It offers a great location and is just a few steps away from the Badshahi Mosque and Shahi Qila. This is where you need to experience the ultimate ethnic cuisine in Lahore especially the famous grilled chicken and Barbeque as well as the famed continental dishes which were very popular. You will feel that you are being transported back in time. The interior is exquisitely decorated with beautiful tiles and brass work. There are several wooden chairs and tables arranged on the stone floor. The decor is done in the traditional style with floral designs on the walls and ceiling.
You can find some of the best food in Lahore and the taste will be memorable. If you are traveling to Lahore, then you can try Poet Boutique Restaurant to experience the different tastes of Pakistani foods. The local cuisine is not at all expensive and so it is very easy to afford.
Main Dishes
There are several dishes served here. You will be offered such dishes as Ashkhoi kabab, Tilmil Jheenga, Darbari Lamb Chops, and Fried Mughlai Prawns. The Dumpukht Raan is a traditional Pakistani dish prepared with mutton, cooked with spices. A thin slice of mutton is marinated in Tandoori masala and cooked in butter. This delicious dish is very filling and has a unique taste.
The Achari Murgh Tikka is a chicken dish prepared with tender meat baked in a Tandoori sauce. Some of the famous ones are Patiala Chicken, Mutton Nali Lucknowi, Chicken Badakhshani Boti, Fish Tikka, Sikandari Diya Kabab, etc. The main ingredients used in these dishes are mint, turmeric, cumin, and chicken powder.
The Poet Boutique Restaurant, a Mughlai Restaurant in Lahore serves Pakistani traditional food. They prepare both the dishes called Mughlai Fried Chicken and Chilam Dar Biryani. These are spicy and very good to relish. The Mughlai Restaurant in Lahore also serves continental delicacies. Some of them are appetizers.
The Mughlai Culture is Steeped in Rich Traditions
A typical Mughlai dinner consists of chicken, mutton, or beef kebabs with a side of rice or chapatti. The Poet Boutique Restaurant offers a variety of authentic Pakistani and continental dishes along with other traditional curries. The Ashkhoi kebabs are marinated with ingredients like clarified butter, onions, and flavorings. The ingredients are usually marinated overnight in spices and then deep-fried. The Mughlai restaurants in Lahore serve a variety of Mughlai specialties such as biryanis and Achari Murgh Tikka and Darbari Lamb Chops to complement the cuisine. This combination of cuisines brings out a unique flavor that is distinct from other dishes from its region.
Mughlai Delicacies
One of the most popular Mughlai delicacies is the biryani. This dish is prepared by deep-frying aromatic and flavored spices in the fat of meat. Traditionally, the meat used for making the biryani is selected and then roasted, which gives it a unique taste. The recipe of biryani is kept a closely guarded secret. The popularity of biryani in Lahore has also made many restaurants in Lahore specialize in preparing this famous dish.
Mughlai delicacies are favorite with people from all walks of life. They are some of the regional cuisines of Pakistan and are now enjoyed by people of all age groups, regardless of their caste and creed. Mughlai cuisines can vary from being extremely spicy to moderately spicy and still others which are light and mild. However, no matter what the cuisine type is, there are hundreds of recipes for Mughlai Dishes. Moreover, these recipes enable one to enjoy the food to the fullest, as they are usually made keeping in mind the individual's preference.
Located in the Center of Walled City
Most of the Mughlai Restaurants in Lahore are found in the walled city Lahore. They are open all day long and they serve lunch and dinner. You can ask for a private meal if you want. The Poet Boutique Restaurant is a five-star restaurant. The decor is very modern and the staff treats their customers with great care. You can get the best food at reasonable rates. The Mughlai restaurant offers you a variety of food items. There is a wide selection including beef, lamb, chicken, mutton, chicken tikka, fish, and vegetables. There are also buffet services in Poet Boutique Restaurant. There are various dishes from the buffet menu. There is no problem in finding a restaurant where you can have an excellent taste of Pakistani food. Visit Poet Boutique Restaurant and enjoy the Pakistani continental cuisines. Poet Boutique Restaurant is always ready to provide its guests with the required hot and cold drinks. You can order anything you like from their dessert selection.