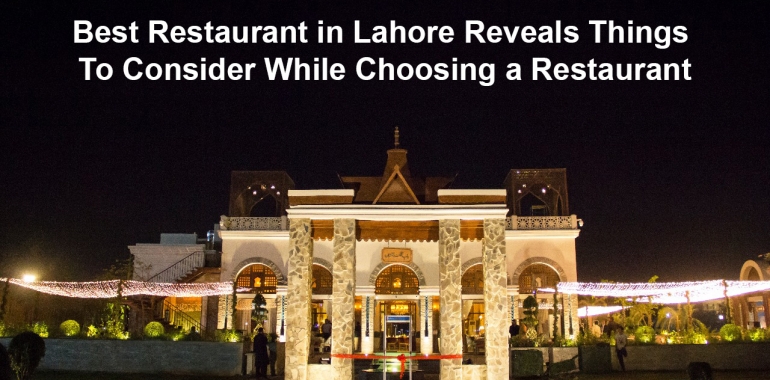 Best Restaurant in Lahore Reveals Things To Consider While Choosing a Restaurant
In our lives, we do come across different sorts of occasions such as birthday celebrations, wedding ceremonies, eid or national holidays, and many others. Everyone has different preferences about how to celebrate such occasions. But most of the time, there is no other best way to make occasions more special than dining in a restaurant with your beloved ones. Do you want to meet a friend whom you haven't seen for quite a  long time? Take him to a restaurant. Want to convince your angry partner or do something special? You can book a reservation in one of his/her favorite restaurants and get a delicious meal he/she always wished to eat. Read this article presented by the best restaurant in Lahore, Poet Boutique Restaurant so that you can have a better idea about what to consider while choosing a restaurant.
Why Choosing a Restaurant Is A Bit Difficult?
Choosing a restaurant may seem like child's play at first sight but that is just an illusion. Selecting the right food spot is not as easy as you think it to be. It may take a quite long time to reach the best option to which everyone agrees and is worth your money. You have made dining plans with your family and want to try Chinese cuisine. But your brother, sister, or other family members give a vote of confidence to Mughlai-style food.
And if you are a resident of Lahore, which is a hub of historical places and top restaurants in Pakistan, then it may require more than just a casual attitude to reach a proper decision. There are a lot of different restaurants out there, thus, making it a bit difficult to choose the best one for your needs.
What Should You Look For While Selecting the Best Restaurant in Lahore?
Selecting the best and most feasible option may take some time but it is not impossible. You just have to look for important features and specialties offered by restaurants. 
Following are the things that you must consider at all costs while choosing the right restaurant to make an informed decision.
Reputation
The most important thing to look for in a restaurant is its reputation. Now it is quite obvious that a restaurant not in the people's good books will eventually fail and shut down. Therefore, researching and exploring your options is a lot better than ending up choosing a bad option and highly regretting it.
Since the current era is technological and digital, therefore finding the best pick must not be as difficult as it was in the past. There are a lot of review sites and directories where you can know more about the restaurant. Besides this, social media platforms are no less than a collection of reviews and ratings for different kinds of restaurants.
Becoming a well-reputed restaurant is not child's play as a lot of hard work is required. Every effort must be executed in a proper way. Even the slightest kind of mistake puts the reputation of a restaurant at stake. This is why people post negative reviews across different platforms. 
But Poet Boutique Restaurant is quite different from others and successfully enjoys a strong reputation as a blue-eyed boy. Wherever you see online, you will always witness positive word of mouth about the best restaurant in Lahore. Poet Restaurant enjoys a great reputation among the masses including famous celebrities as well. 
Menu Items
Menu Items are another important thing to consider for a restaurant. If a restaurant's menu is not good, then it will have to expect people to go to some other food spot to fulfill their cravings. Therefore, you must make sure to choose the restaurant which has the best menu out of all. Why? Because the best menu helps you win 50% of the competition.
Best Menu is responsible for making restaurants stand out. Have you ever wondered about famous restaurants all over the world? How did they manage to pave the way to success? The answer to such questions is quite simple. They worked on their menu and ensured to provide dishes that most of their target audience love to eat.
And when we say the best menu, it means a variety of quality dishes out of which diners can choose from any and also try others upon their next visit. Having nothing special on your menu with the same thing over and over will make your customers extremely bored. 
However, when it comes to offering great menu items, no one is much better at getting the job done than the Poet Boutique Restaurant. If you have already visited the best restaurant in Lahore or are going for the first time, you will see a lot of different menu items from starters and appetizers to Beverages. 
Ambiance
Ambiance matters a lot. There are only a few people for whom ambiance is not that important but the food is. They are only concerned with eating delicious food, even if they are sitting in a quite bad environment. But in reality, the ambiance enjoys equal importance just as other major aspects of the restaurant.
It is important to understand that people don't visit restaurants to just eat delicious and unique food. They can do it in their homes too. What people are looking for is an ambiance in which they can relax, get comfortable like never before, and spend quality time with their friends or family members.
Restaurants must be cautious enough to choose the right kind of ambiance. Or they may end up providing a completely opposite experience. The right ambiance is one that well complements the type of cuisine a certain restaurant is offering. This way your experience will get more blissful and memorable.
Poet Boutique Restaurant falls in the topmost rankings when it comes to providing the best ambiance. The historic and Mughal-inspired architecture of the best restaurant in Lahore having unique ambiance always leaves customers in awe. Whether you are looking for outdoor dining or indoor, Poet Restaurant will always make sure to provide you with the absolute best and ideal ambiance.
Food Quality and Service
Food Quality and Service is the most important thing a true food lover will be expecting from a certain restaurant. Usually, people are looking for low-priced options even if there is a compromise on the food quality and service. 
However, it is not necessarily true that all restaurants offering low-priced food will be of exceptional quality. And a genuine food lover knows this. Why? Because he is well-versed and has great experience dining in restaurants. He highly knows if a food place will be worth his money or not and cautiously chooses the ideal and favorable option for himself.
Aside from that, the service of a restaurant must be quick enough to meet the diners' expectations. Excellent service will ultimately make customers keep visiting a certain restaurant countless times. And in case a problem arises, the restaurant staff must have strong enough expertise to devise a tailored solution and resolve customer problems effectively, and quickly.
There is no best real-life example of a restaurant offering the best quality food and service other than the Poet Boutique Restaurant. The best restaurant in Lahore never misses a chance to win the hearts of its target audience and customers through unparalleled food quality and services. 
Therefore, this restaurant is definitely the best pick that is worth your money. You won't ever regret eating from this restaurant as the high-level services of Poet Restaurant will make you return home as happy.  
Location
Location is another important factor that will help out in letting you know if a certain restaurant is a good fit for your dining needs or not. The restaurant must not only have the appropriate location. But it must be accessible enough so that people can easily locate it and reach for beating down their hunger.
Aside from that, location also gives an idea about how well a certain restaurant is doing well in terms of progress and customers. This will give you an insight into if that particular restaurant is a good pick for your dining needs or not.
Knowing about the location of a restaurant is necessary at all costs. Why? Because you will not spend money on food. But you will also disburse your fuel and time out of the whole day. And if the location of a restaurant is quite complex and unknown to be discovered, then what is the use?
A restaurant having an inaccessible location will only turn off potential customers. But that's not the case with the Poet Boutique Restaurant. People frequently visit the best restaurant in Lahore simply because both branches (Greater Iqbal Park and Lake City) are easy to find. Thus, diners feel relaxed as they don't have to struggle a lot to find it. 
Budget
Found a potential dining option but not sure if proceeding with it is favorable. Consider your budget at all costs no matter what. Just because the food is of the best quality but of high cost, it doesn't mean that you should compromise on your budget and end up being empty-handed. There may be some circumstances when you badly want to eat a famous dish that is quite expensive. 
But still, you need to make sure if you can afford it or not. Besides this, there are other important things to consider. Like how much you want to spend on drinks and starters. Is there any tax or GST included with all dishes or not? 
In short, if you don't have enough budget, you can still look for other less expensive options out there. If you are about to dine with a group of friends or family, then expenses won't be a big problem as they may get divided between everyone. To make your dining experience more pleasurable and great, it is better to stay away from overspending.
However, Poet Boutique Restaurant is quite reasonable for almost every person. However, it doesn't mean that food is of bad quality. In short, almost everyone can afford the best restaurant in Lahore without experiencing any slight drop in the quality of food and service. This is why Poet Restaurant is crowded most of the time since it is an affordable one as well.
Buffet or Ala Carte
Another important thing to consider that from what kind of menu you are looking to eat from. If there is a good restaurant in your mind, look out for if that restaurant is offering Buffet Dishes. Or you have also the choice to eat A La Carte from there as per your choice. This will help you in letting us know if that restaurant is the best choice or not.
There are some restaurants that completely offer either Ala Carte or Buffet Menu. The buffet is best for those people who find it quite hard to decide what to eat. Or if they usually crave more than one kind of dish. If you are one of these people, then you should eat a buffet as it will absolutely make your day.
Otherwise, there also exists another category of people who are quite decisive and always reach the desired option within a blink of an eye. If you fall into such a category, then A La Carte is the best option. Why? Because you can order and eat food items separately without trying anything you don't like.
Poet Boutique Restaurant, the best restaurant in Lahore, is well-known for its A La Carte Menu. But at the same time, it also provides customers with a buffet (comprising a variety of dishes). Do you want to give a treat to your family members or group of friends but are not sure where to proceed? The best restaurant in Lahore is ready to help you out and will never make you feel embarrassed at any moment.  
Hygiene
Hygiene is a crucial element in all aspects of life whether it is your personal life or professional one. In homes and offices, maintaining hygiene is necessary to make sure everything goes smoothly without you feeling any sort of inconvenience. The same thing goes for restaurants as well.
Whenever you are about to dine in at a certain restaurant, make sure not to compromise on hygiene. Hygiene is important for your own good health in the first place. You would definitely not like to end up as sick, would you? Communicate with the restaurant staff or other concerned people representing restaurants and ask questions to them. 
How does a certain restaurant ensure and implement hygiene? What necessary steps does it takes to maintain cleanliness? How does the food place disposes of the garbage and dirt? Does the restaurant staff follows the proper uniform code or not? In what way a restaurant serves food to customers? Does the staff uses well-cleaned utensils, cooking pot, fry pan, etc., or not?
Answers to such questions will give you important insights about a certain restaurant. Besides this, considering hygiene is the best way to analyze a restaurant's credibility, reputation, and performance. 
However, Poet Boutique Restaurant is one of the few restaurants that excel in all these areas. That's the reason why Poet Restaurant is the number one choice of many people for the best fine dining in Lahore. 
Additional Services
Sometimes only the delicious and best quality food is not enough. Restaurants must have some additional services as well otherwise people may visit somewhere else for extra benefits. Or they will simply visit a restaurant at if getting a tasty meal is not a huge problem for them.  
So whenever you are searching for the best restaurant, make sure to look out for additional services as well. A list of extra services is a helpful addition or contribution to your convenience. Additional services help you make your moments with your beloved ones more special, wonderful, and memorable.
When it comes to offering extra but unique services, Poet Boutique Restaurant always comes in the first position. Why? Because no one offers facilities just as the Poet Restaurant. This is why many people including famous Pakistani celebrities visit this restaurant multiple times and never get bored or tired even for a single minute.
Do you want to eat something special along with an awesome sight of Lahore Fort at the same time? Don't worry, Poet Restaurant will provide you with a free golf cart ride across the famous and historical landmarks of Lahore. While at the same time, the best restaurant in Lahore never misses a chance to prove itself in front of countless customers as the best place in Lahore to eat.
Final Verdict
In this article, we discussed the most important factors to consider while selecting a restaurant. A restaurant is more than just a place for breakfast, lunch, or dinner. People especially Lahoris view restaurants from a different lens. It is a big source of pleasure and joy for them. 
Poet Restaurant enjoys a big following and never stays out of the people's good books due to its scrumptious food, quality services, and other necessary requirements. Hurry up, book an immediate reservation, and experience the truly best from the best restaurant in Lahore.