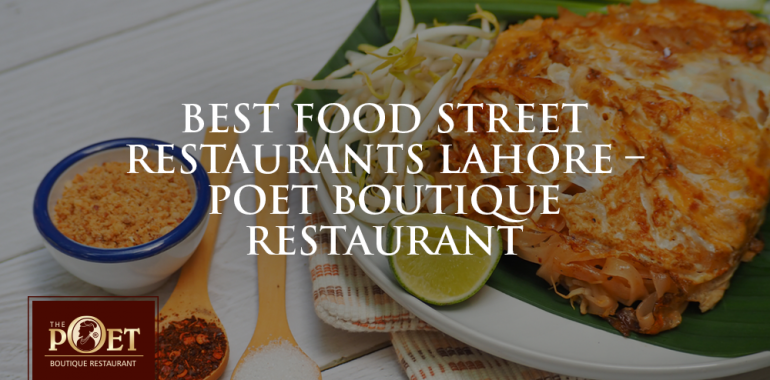 Best Food Street Restaurants Lahore – Poet Boutique Restaurant
Food Street Lahore is the most beautiful spot in the city, especially at night. The vibrant historic structure will provide you with fascinating glimpses of life during the Mughal era. All of the structures on this street have a historic past that has been kept inside them. Each one is significant in its way. Some were Havelis, while others were ancient residences that had been restored and transformed into restaurants. You'll also see architecture and art that are not anywhere else. The Government transformed this food strip between Fort Road and Roshnai Gate into a public space in 2012.
Lahori Food and Pakistani Cuisine
The whole food street is lined with eateries providing the greatest Lahori food and Pakistani cuisine in its most genuine form, along with outdoor eating options. One of the Best Food Street Restaurants in Lahore is Poet Boutique Restaurant located in the middle of the Greater Iqbal Park, which offers its guests a one-of-a-kind experience, with exquisite eating and an old atmosphere that piques people's interest in discovering what's within.
Vibrant Atmosphere
Some of the eateries feature little museums that are popular with tourists. In a nutshell, Poet Boutique Restaurant is the top food street restaurant in Lahore that everyone should try. The vibrant atmosphere and scent in the air will entice you to sit and enjoy the magnificent view of the Mighty Badshahi Mosque, Lahore Fort, and Minar e Pakistan.
Historical Significance
Poet Boutique Restaurant as mentioned above, located at the center of the Greater Iqbal Park, has historical significance. From this restaurant, you can overlook several historic landmarks that are significant in Pakistan's history. The Badshahi Mosque, which was built by King Aurangzeb Alamgir and was the biggest mosque for 300 years, can be seen. There is also the tomb of Allama Iqbal in the vicinity. The magnificent Minar-e-Pakistan, as well as the Lahore Fort, can all be seen from this eatery. You will enjoy an antique perspective of the old structure from all four sides. This vista is much more stunning at night, with tiny lights as far as the eye can see.
Mesmerizing Atmosphere
The restaurant has mainly retained its unique form. The doors, woodwork, window carvings, wrought iron rods, and handcrafted tiles. Every detail of this place is priceless and has a tale to tell. Tourists and even locals like taking photographs here because of the natural beauty and historic atmosphere. The owner of Poet Boutique Restaurant makes this location vibrant and a fantastic spot to enjoy traditional food. Without a doubt, it is a wonderful eating experience.
The Cuisine
The cuisine, which is the second most significant component in the success of Poet Boutique Restaurant, is divine. They have all of the desi specialties you can think of. If you're searching for Pakistani food, there's no better place to go than this one. What a massive menu they have. The variety of their barbecue cuisine, as well as the Karahi and Handi, is unrivaled. People flock here, though, for the Desi craziness. The restaurant is usually busy, and it is never empty, but the staff is competent and well-trained. They understand how to efficiently serve a large audience.
Superb Dining Experience
The best food street restaurant in Lahore offers a superb dining experience at a cost. Their dishes are rather inexpensive and the quality and atmosphere are well worth the price. The area is filled with historic artifacts, and tourists love to enjoy every bit of these historic things. That is, you will notice a large number of foreigners here. Locals are regular clients as well.
Poet Boutique Restaurant is well-known among locals, visitors from other towns, and even foreigners. This is not a dreary or lifeless environment. So, do let us know about your experience regarding your visit to this best food street restaurant in Lahore.
Sophisticated Royal Setting
A sophisticated royal setting in which to dine on delicious cuisine. Although this restaurant is a new addition to the finest restaurants in Lahore, it has quickly risen to the top of the Lahore restaurants list. The success and renown are due to the high quality of both the cuisine and the service.
The variety of cuisine offered at Poet Boutique Restaurant vary in price but is cheap, and the ambiance, as well as the view, are worth experiencing. The area is well-lit, and security precautions are adequate, making this a wonderful hangout for family, friends, and guests.